Publications
Sri Lanka Journal of Population Studies (SLJPS) –Volume 21 Number 1
Sri Lanka Journal of Population Studies (SLJPS) –Volume 21 Number 1 was launched on February 2020. The SLJPS is a scientific refereed journal, publish by the Population Association of Sri Lanka. It seeks to promote and disseminate knowledge on Demography and Population Studies in a multi-disciplinary perspective with major reference to Sri Lanka. Volume 21 Number 1 consisted of six articles, and carried an array of interrelated themes covering fertility, mortality and migration, the core areas of Demography, and non-communicable diseases, population ageing, population and environment, disaster management and contraception.
Forthcoming
SLJPS Volume 21 Number 2 and SLJPS Volume 22 Number 1 will be launched in June 2021.
The Journal Volume 21 Number 2 carries papers titled Socio-economic differentials and regional variations in cancer and circulatory disease deaths attributed to nonspecific causes in Sri Lanka, Migrate or stay behind? Gendered negotiations regarding children's education, Multidimensional poverty among the estate population of Badulla District in Sri Lanka, Safe sanitation & population health and a book review on the publication "Ageing population" of Sri Lanka.
Publishing an annual refereed journal named Sri Lanka Journal of Population Studies - Volumes 1 to 21 (1) have been already published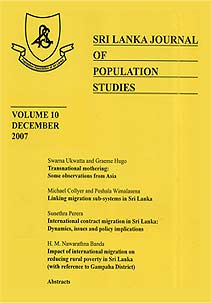 As prescribed in the constitution, a Journal named "Sri Lanka Journal of Population Studies" is being published. This is the only learned journal published in Sri Lanka for the field of demography/population studies. Twenty one volumes of the journal have been so far published. An international advisory board was appointed from this year to maintain the prestige of the journal. The United Nations Population Funds (UNFPA) provided the financial support to publish these five volumes. The contents of the past volumes are appended here.
---
Publishing PASL News letter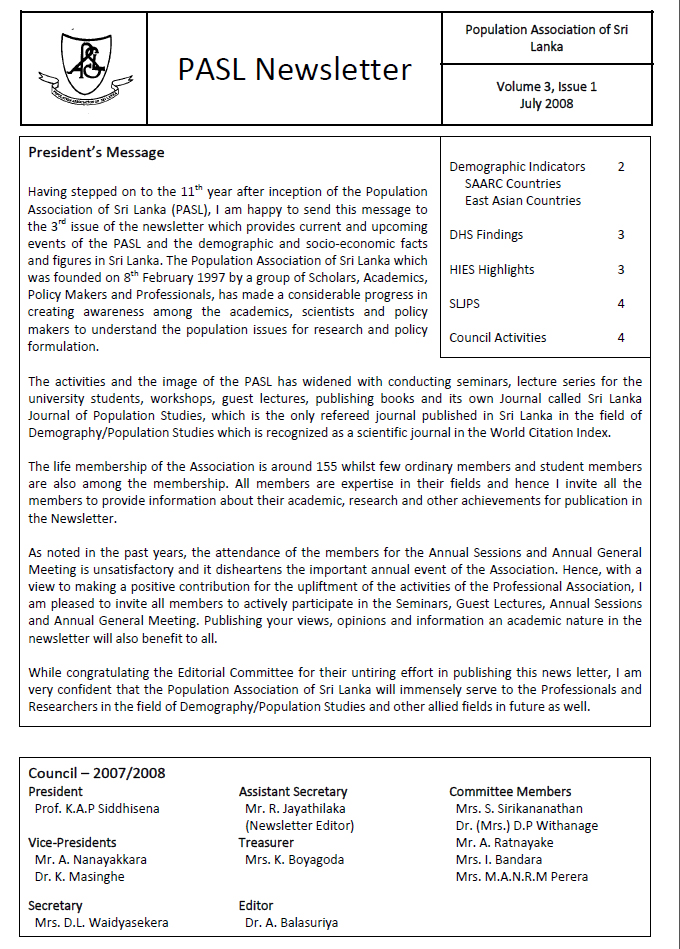 A "News Letter" which contains the current news, facts, data and information related to PASL and current Population Issues in Sri Lanka will be published twice a year with the assistance of PASL memberships.
PASL News letter can be download here.
Volume 3, Issue 1, July 2008